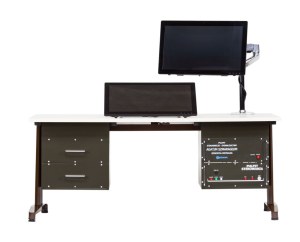 Agat/M Szmaragd/M is a shooting range target field command and control system. It is used to operate pop-up and moving targets, targets visible and IR light, warning lights and signaling, it can also lock and release electrolocks in shooting range facilities. System automatically detects target hits, and evaluates a shooter after the end of each training session. System enables shooting progress registration and results saving, displays each target and other target field devices' status, as well as enables simultaneous training of several shooters.
Command and control can be carried out manually or automatically. Each system we supply has pre-programmed training scenarios, compatible with implemented in Polish Army Small Arms Training Program or Combat Vehicles Training Program, as well as compatible with specific unit training program. Moreover, user can create his own training scenarios, to supplement those delivered with the system.
Agat/M Szmaragd/M system, depending on hardware configuration, can use wired or wireless communication with targets and other elements of the system, and if it is required by specific local conditions – partly wired, partly wireless configuration can be prepared. The system works with actuators both produced and supplied by Optimum, as well as with those available on the market. It can be installed at small arms and vehicle shooting ranges; it can be both used indoor and outdoor.
Basic specification
Command and control
| | |
| --- | --- |
| No of targets: | max outlets 864 |
| Mode: | automatic or manual |
| Timer: | minutes and seconds, independent for each lane |
| Wired range: | 2000 m |
| Wireless range: | 3200 m |
| Power: | 230V / 50Hz |
| Operating temperature range: | +5ºC ÷ +35ºC |
| Storage temperature range: | 0ºC ÷ +40ºC |